'Hello' in European languages
by
Jakub Marian

Tip: See my guide to the

Most Com­mon Mis­takes in Eng­lish. It will teach you how to avoid mis­takes with com­mas, pre­pos­i­tions, ir­reg­u­lar verbs, and much more.
Today's map shows how to say hello in French, Ger­man, Span­ish, Italian and other European lan­guages (note that most local lan­guages and dia­lects were not in­cluded for space reas­ons). Since there are many dif­fer­ent greet­ings in any given lan­guage, I tried to put the more formal ones be­fore the less formal ones; that is, the greet­ings at the top are safe to say to every­one, and the ones at the bot­tom are usu­ally bet­ter suited for friends and fam­ily.
If you want the share the map, please, share a link to this art­icle rather than just the pic­ture. Note: The un­der­ly­ing blank map was made by Tindo and li­censed from fo­to­lia.com.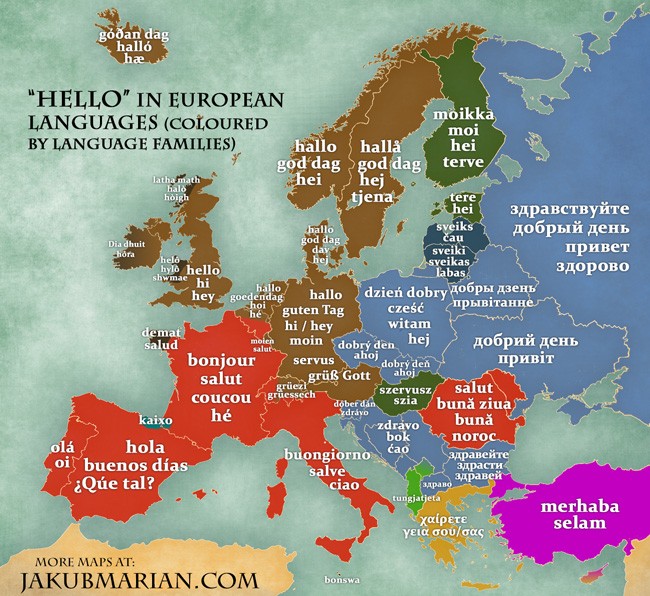 https://jakubmarian.com/hello-in-european-languages-map/
Aprende idiomas leyendo periodicos y revistas * When you learn English, you have to learn in whole sentences and in context * Learn languages by reading newspapers and magazines * Imprime diariamente de 10 a 40 renglones de algún texto o noticia interesante o curiosa en tu idioma. Subraya de 10 a 40 palabras (según tu disponibilidad). Anótalas en columna en el espacio disponible abajo del texto o en el reverso de la hoja. Tradúcelas al inglés u otro idioma deseado. Anota el significado al lado de cada palabra. Si ya entiendes lo que lees al 50% en un idioma extranjero, repite lo anterior pero ahora con oraciones cortas (en lugar de palabras) en el idioma extranjero que ya conoces. Revisa tu trabajo y compáralo con el de otros compañeros para corregir errores. Muestra tu trabajo a tu profesor. Pídele que te sugiera otra actividad que expanda lo que acabas de realizar. Copia y comparte este trabajo, súbelo a tu blog o página personal. My Homework Network * Non-Profit Sharing Ring * Languages * Collaborative School Projects * Prof JML * Mexico